This is an archived article and the information in the article may be outdated. Please look at the time stamp on the story to see when it was last updated.
LA PALMA, Calif. (KTLA) — For the first time in a week, Christopher Dorner's mother is back at her home in La Palma, the site of one of the first searches for evidence.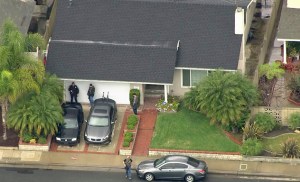 The home on Sharon Drive is Dorner's last-known residence.
He lived there with his mother, 62-year-old Nancy Dorner, and sister, according to authorities.
Federal agents did a thorough search of the house last week for evidence as the manhunt for the former cop turned fugitive began.
They walked out of the house with about ten bags of evidence.
Neighbors say they rarely saw Dorner at the home, but when they did, he was usually lifting weights in the garage and would always say hello.
They also say that Dorner's mother has always been nice and friendly.
"She was like grateful, she was just passing by and would say 'hi' all the time," neighbor Raj Tailor said. "She's a very quiet woman. I was shocked myself."
So far, Dorner's mother has remained inside the home and refused to speak to the media.