This is an archived article and the information in the article may be outdated. Please look at the time stamp on the story to see when it was last updated.
Several drivers amassed on Crenshaw Boulevard in Gardena to spin donuts on Thursday night as a form of tribute to the two men who lost their lives there the day before.
The men who died had a passion for cars, those who turned out Thursday said. They were identified by loved ones as 20-year-old Jose Padilla, of Hawthorne, and Alvaro Martinez, a father to a young son.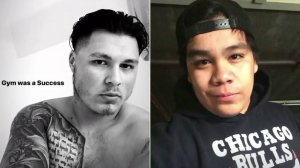 Investigators believe the 2006 Corvette they were in was speeding north on Crenshaw Boulevard around 8 p.m. Wednesday when the driver lost control near El Segundo Boulevard. The vehicle jumped onto the sidewalk then collided with a pole before slamming into the front of a metalworking business, where the sports car burst into flames.
Padilla, identified as the driver by Gardena police, was ejected and his body was found later near the wreckage, authorities said. Witnesses recounted a harrowing scene as they wished to save one of occupants, but flames prevented them.
"I saw the guy; he was already gone, so we couldn't do nothing about it," bystander Guillermo Avarca told KTLA.
Detectives believe speed played a role in the fatal incident and are now reviewing surveillance footage to determine whether a second vehicle was involved.
Herbert Udeoba said he witnessed crash after the Corvette passed him on the road and zigzagged at least once.
"The accident was so terrible," Udeoba said. "He was at a high speed, more than 80 mph I can guess."
A memorial was erected at the site Thursday night, shortly after officials concluded an extensive cleanup operation.
"It's very hard to believe they passed away," friend Alex Villegas said. "I feel bad too, because I know him."