This is an archived article and the information in the article may be outdated. Please look at the time stamp on the story to see when it was last updated.
One man was dead and at least one other injured following a shooting that took place early Sunday morning in Ventura near Golden China restaurant, authorities said.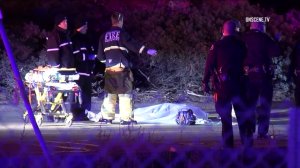 A California Highway Patrol sergeant on Seaward Avenue near Highway 101 around 1:20 a.m. Sunday morning when he heard multiple shots fired, according to a statement from the Ventura Police Department. After searching the area the sergeant found a 27-year-old man lying in the road near the freeway exit by Golden China Restaurant with multiple gunshot wounds in his upper body, officials said.
The sergeant attempted to render aid to the victim, but the man was pronounced dead at the scene once Ventura firefighters arrived, police said.
A second gunshot victim transported himself to the Community Memorial Hospital at 1:28 a.m., and it was later determined he suffered the wounds in the same incident, according to the statement.
The 30-year-old man was suffering from a serious injury to his upper torso but he is now being treated at Ventura County Medical Center and expected to survive, officials said. The victim had shown up at the hospital on a skateboard, the Ventura County Star reported.
Despite tying the two incidents together, investigators have not been able to identify a suspect or determine what led up to the shooting.
Detectives are looking into reports that the shooting took place inside a black pickup the victim had been in, according to the VC Star.