This is an archived article and the information in the article may be outdated. Please look at the time stamp on the story to see when it was last updated.
Authorities are searching for a gunman Wednesday after two people were found shot to death in the Vermont Knolls neighborhood of South Los Angeles the night before.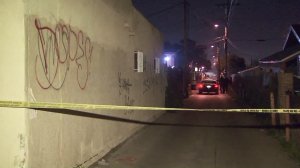 The shooting was reported in the 900 block of West 74th Street about 11:30 p.m. Tuesday night, Los Angeles Police Department Detective Eric Crosson said.
Arriving officers found two Hispanic men down in the street that were suffering from apparent gunshot wounds, Crosson said.
Both victims, who have not been identified, died as a result of the shooting.
Detectives were searching for witnesses, but so far no description of the shooter or shooters was available.
It was unclear what led up to the shooting or if it was gang related, Crosson said.