This is an archived article and the information in the article may be outdated. Please look at the time stamp on the story to see when it was last updated.
A doughnut shop owner grabbed a would-be robber's gun and fought with him and another assailant in a pre-dawn confrontation in Burbank Wednesday, police said.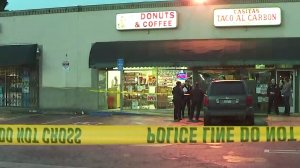 The incident occurred about 5:30 a.m., when the two men wearing hoodies and masks entered Kim's Donuts & Coffee in the 400 block of Victory Boulevard, according to a Burbank Police Department news release.
At least one of the men was armed with a handgun. One suspect held the owner at gunpoint while he removed items from the owner's pockets, police said.
The owner then grabbed the man's handgun and became involved in a fight with both men.
At one point, the gun went off, police Sgt. Stone told KTLA.
The men left the store, but it's not known if they got away with anything.
No one was struck by the gunfire and the two men fled the scene in a white vehicle, Stone said.
They were last seen traveling west on Magnolia Boulevard, possibly in a white sedan, the release said.
The employee suffered minor injuries and was treated by paramedics who responded to the scene.
Anyone with information is asked to call Detective Edwards at 818-238-3210 or, to remain anonymous, Crime Stoppers at 800-222-8477.
KTLA's Alberto Mendez contributed to this report.