This is an archived article and the information in the article may be outdated. Please look at the time stamp on the story to see when it was last updated.
Two firefighters were injured when a power line came down as they were responding to a blaze in San Bernardino Tuesday night.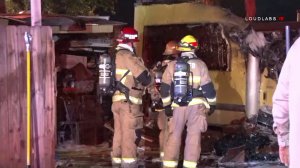 A caller reported a burning big rig in the 4000 block of North E Street about 11 p.m., San Bernardino County Fire Department Capt. Steve Tracy said.
Crews responded within 5 minutes and discovered the flames were threatening several nearby apartment buildings.
As the firefighters were protecting the structures and dousing the big rig fire, some nearby power lines came down and forced the crew to retreat over safety concerns, Tracy said.
"Unfortunately, two of our firefighters may have been exposed to that electrical current," Tracy said.
The firefighters were both hospitalized as a precaution.
Video from the scene showed a portion of the big rig's cab had melted under the flames.
No other injuries were reported and there was no word on the cause of the fire.