This is an archived article and the information in the article may be outdated. Please look at the time stamp on the story to see when it was last updated.
A candlelight vigil was held Saturday night for a Downey High School football player who died two days after he collapsed at a game.
The unexpected death of Dodi Soza, 16, a member of the school's junior varsity football team, was announced Saturday in a statement issued by Long Beach Memorial Hospital.
The mayor of the city of Downey also confirmed Soza's passing on Twitter.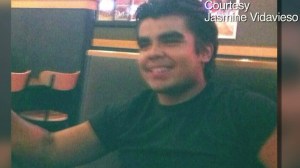 "Our community mourns the passing of one of own today. DHS football player Dodi Soza. Our broken hearts are with his family. God bless him," Mayor Mario A. Guerra tweeted Saturday.
Soza collapsed Thursday at 3:24 p.m. and was not breathing, according to the Los Angeles County Fire Department.
The junior running back was on the field for a game at Lynwood High School when it happened.
Soza was taken to St. Francis Medical Center's intensive care unit before being transferred to Long Beach Memorial.
Richele Steel, a spokesperson at Long Beach Memorial, confirmed Soza's death on Saturday afternoon.
"It's a sad story, [for] a young person to lose his life," said William Ramirez, one of hundreds who attended the memorial at the campus. "But like my son told me … 'He's in a better place.'"