This is an archived article and the information in the article may be outdated. Please look at the time stamp on the story to see when it was last updated.
The Amapola Market in Downey reopened Wednesday to long lines of people still trying to get a refund for bad masa purchased at the store that was blamed for ruining their Christmas tamales.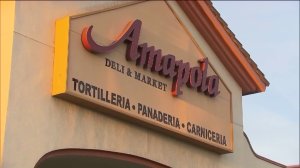 The store began handing out refunds after scores of people lined up outside the market on Christmas Day complaining their traditional holiday meals were ruined by the masa.
On Monday, Chief Financial Officer Carlos Galvan, whose family owns the chain of markets, acknowledged the bad masa was responsible for the ruined tamales and said refunds would be given anyone who purchased the product at their store, even if they didn't have a receipt.
The store eventually had to close and locked its doors Tuesday after apparently running out of cash due to the number of refunds.
On Wednesday, a long line of people stood outside the store again waiting for refunds.
Luis Alvarado, a new spokesman for the market, was also outside and told KTLA the store would again be giving refunds, but customers now needed to show a receipt proving they purchased the masa on either Dec. 23 or 24 to get a no questions asked refund.
The store would also consider claims from customers who had additional costs for other ingredients ruined by the masa, Alvarado said.
Those who purchased their masa on a different date, or who didn't have a receipt, could fill out a claim that would be investigated by the store, Alvarado said.
The claims could be filled out online and there was no expiration date on getting a refund, Alvarado said, suggesting there was no need for customers to wait in the long line outside the store Wednesday.