This is an archived article and the information in the article may be outdated. Please look at the time stamp on the story to see when it was last updated.
A man was severely injured early Sunday morning when the car he was driving slammed into a pole in downtown Los Angeles, authorities said.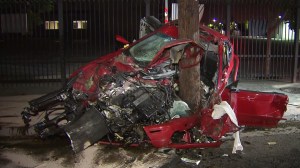 The unidentified driver lost control of the vehicle and crashed near East 8th Street about 1:10 a.m. while  traveling northbound on Alameda Avenue at a high rate of speed, according to a spokesperson for the Los Angeles Police Department's Central Traffic Division.
No other vehicles were involved in the incident.
The man was transported to a local hospital, the LAPD said. It was unclear whether he was expected to survive.