This is an archived article and the information in the article may be outdated. Please look at the time stamp on the story to see when it was last updated.
Angels Flight, the historic downtown Los Angeles railway funicular that's been sitting dormant, is expected to reopen by Labor Day under the control of a private company.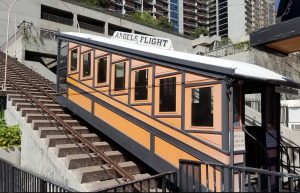 The landmark, which was built to take passengers up and down a steep incline between Hill and Olive streets, has been closed since 2013. It opened in 1901, when rides cost a penny.
The foundation that controls the "shortest railway in the world" has agreed to a 30-year concession agreement that will allow Angels Flight to reopen under a public-private partnership.
The agreement was announced Wednesday at an event attended by Los Angeles Mayor Eric Garcetti, who helped broker the deal. He noted that the railway has been closed for most of his life.
"After accidents, persistent safety issues, Angels Flight moved from our reality into our dreams and our memories," Garcetti said. "But as anyone who has seen 'La La Land' can tell you, dreams still do come true here in Los Angeles."
The 2016 film, recently the subject of an Oscar-night best picture mixup, included a scene with actors Ryan Gosling and Emma Stone inside an Angels Flight car.
The private entity that will operate the 300-foot railway — a longtime tourist attraction that is on the National Register of Historic Places — is led by ACS Infrastructure Development, Inc., a transportation company. The city of Los Angeles is also a partner in the deal.
Metro will be part of the public-private partnership, meaning riders who have TAP cards will continue to be able pay half-price fares for the first three years of operation.
When the attraction closed, fares were 50 cents. The "initial" fare will be $1, officials said.
Angels Flight was disassembled in 1969 when Bunker Hill homes were torn down and replaced with high-rises. The railway was rebuilt more than 25 years later down the block from its original location, reopening in 1996.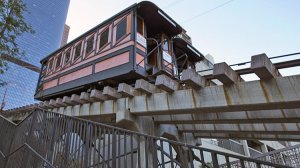 In 2001, an 83-year-old passenger died after one car sped uncontrolled down the hill, hitting the railway's other car. The crash left the attraction closed for nearly a decade.
A car also derailed in 2013, ultimately leading to the closure of Angels Flight due to concerns over new regulatory requirements. Its two orange cars — named Olivet and Sinai — became a target for graffiti last fall, the Los Angeles Times reported.
The Angels Flight Railway Foundation began seeking a new operator in 2015.
The California Public Utilities Commission approved the operation plan in January, but still needs to confirm planned safety improvements are completed.
It's not clear how much the improvements will cost.
Testing and inspections are expecting through spring and summer, with a goal of reopening by Labor Day or sooner.