This is an archived article and the information in the article may be outdated. Please look at the time stamp on the story to see when it was last updated.
LOS ANGELES (KTLA) — Some 800 federal agents and local police cracked down on a notorious South Los Angeles gang Thursday, arresting dozens of suspects on drug and weapons charges.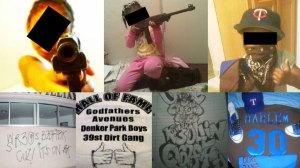 The FBI, which announced the arrests as part of an 18-month operation dubbed "Operation Thumbs Down," described its target, the Rollin' 30s Harlem Crips, as a "multi-generational violent gang."
Officers and agents served arrest and search warrants on alleged gang members and gang locations, seizing drugs and guns.
The operation focused on senior leaders of the gang known as the "shotcallers," who direct criminal activity in the gang's three factions — "The Avenues," "Denker Park" and "39th Street" — according to an FBI news release.
Thirty-five defendants are in custody on state and federal charges, which include drug conspiracy and possession charges, as well as the unlicensed sale of guns, the FBI stated. An indictment handed down by a federal grand jury charged 21 of the defendants.
Those arrested Thursday were slated to appear in federal court that afternoon.
Some of the alleged gang members — accused of participating in a drug ring that sold crack — were already in custody.
"Operation Thumbs Down" was so named because of a gang sign used by the group that includes two thumbs pointed upward, representing the "H" in the word "Harlem," according to the FBI. The operation was staged out of Exposition Park, southwest of downtown L.A.
Authorities released images of young children shown posing with weapons, saying the photos were posted to social media in association with the gang.
"When you grow up in a culture like that, violence becomes … second-nature, and that's the cycle that we're trying to disrupt," said LAPD Cmdr. Bill Scott.
In the past five years, the gang's 1 1/2-square-mile territory has seen 29 homicides, about 1,100 robberies and 1,075 assaults, according to the FBI. The territory is bound by Jefferson, Martin Luther King, Normandie and Crenshaw avenues, the bureau said.
The gang, estimated to have between 700 and 1,000 members, is thought to have committed a series of "knock-knock" home burglaries as well, the FBI said.
The regional Los Angeles Metropolitan Task Force on Violent Gangs led the investigation; the task force includes the FBI, the Los Angeles Police Department and federal and city prosecutors. Several other county, state and federal agencies assisted in the raids, the FBI.
Since the investigation began last year, 60 alleged gang members have been arrested, and 32 firearms and more than 10 kg of crack were seized the FBI said.