This is an archived article and the information in the article may be outdated. Please look at the time stamp on the story to see when it was last updated.
An intense fire ripped through a an animal museum in Oak Glen on Thursday, killing 18 small animals and injuring a firefighter before it was extinguished, authorities said.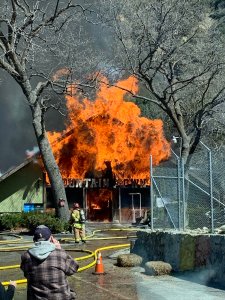 The fire broke out shortly before noon at the Animal Town Museum, in the 38300  block of Oak Glen Road, according to Cal Fire.
The first firefighters to arrive found heavy smoke and flames, which were threatening other nearby buildings, fire officials said via social media. The intensity of the fire, coupled with increasing wind speeds, prompted firefighters to declare a "third-alarm" response.
Officials declared the fire under control about 12:45 p.m. But firefighters remained on-scene for hours longer conducting "mop-up" and making sure the fire didn't reignite.
One firefighters suffered what Cal Fire officials described as "minor burn injuries."
Fourteen of 32 animals housed at the museum were saved, Cal Fire officials said. An earlier report from the L.A. Times indicated as many as 100 animals had been killed.
Turtles, snakes, parakeets and other small animals were believed to be among those that perished in the blaze, San Bernardino County Sheriff's Department spokeswoman Jenny Smith told the Times.
Rescued animals included geese, turtles and parrots, according to Cal Fire.
The museum houses animals including snakes, lizards, tarantulas and hissing cockroaches, according to its website.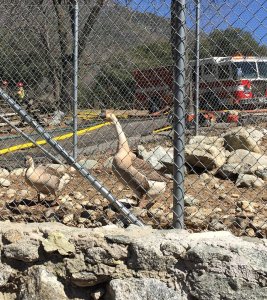 The cause of the fire was not clear.
— Yucaipa Police (@YucaipaPD) March 14, 2019
#OakGlenIncident *update 2* Commercial Structure Fire at Mountain Town reptile museum in Oak Glen is contained. Resources will remain on scene for several hours for mop up and overhaul. Cause is under investigation. Assist from @YucaipaPD @CALFIRERRU @SBCOUNTYFIRE @RedlandsFD pic.twitter.com/flYgNsqHBs

— CAL FIRE BDU (@CALFIREBDU) March 14, 2019
#OakGlenIncident *update 4* According to the owners of Mountain Town reptile museum, 14 of the 32 animals were rescued. Here are two geese and 6 water turtles that are safe. 6 parrots were also rescued. pic.twitter.com/FT8X6wCDvR

— CAL FIRE BDU (@CALFIREBDU) March 14, 2019