This is an archived article and the information in the article may be outdated. Please look at the time stamp on the story to see when it was last updated.
Newly released dashcam video captured a dramatic shootout between police and a parolee outside a popular restaurant in Sonora.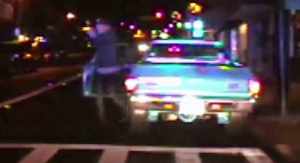 The incident began shortly after 10 p.m. on Nov. 22 when Sonora officers responded to a report of a man at a residence waving a gun, according to CNN affiliate KXTV.
The man, identified as 29-year-old Bruce Snyder, was known to local police as being out on parole, the Northern California television station reported.
At some point, police initiated a pursuit that ended when Snyder pulled his car over in front of a restaurant.
He exited his vehicle and, with several pedestrians in the vicinity, began firing multiple rounds in a gun battle involving Sonora police Officer Ryan Webb, the station reported.
Webb was shot in the hip but still managed to pursue the suspect after he got back into his car and took off.
Snyder did a three mile loop around Sonora and came back to the same spot he had stopped the first time.
Once again, he exited his vehicle and began firing a gun, according to KXTV.
Snyder was subsequently killed after being shot by police, KTLA sister station KTXL reported last month.
The entire incident occurred over a span of roughly 12 minutes.
"Bruce Snyder dictated the events that took place that night. It was his intention to hurt, kill law enforcement or anyone else that night," Tuolumne County Sheriff Jim Mele told KXTV.
The officer-involved shooting was the first in 16 years in Sonora, which is located roughly 95 miles away from Sacramento.