This is an archived article and the information in the article may be outdated. Please look at the time stamp on the story to see when it was last updated.
The driver accused of leading authorities on a pursuit that ended in a standoff on the 91 Freeway in Anaheim Hills was identified Friday.
John Lopez was arrested after the hourslong incident on Thursday evening, according to Lt. Dan Holguin of the Los Angeles County Sheriff's Department.
Lopez was allegedly behind the wheel of a black Mercedes-Benz when the slow-speed chase began in the Compton area.
Sheriff's Century Station deputies were patrolling when they saw the car, which matched the description of a vehicle involved in an earlier attempted murder and assault with a deadly weapon incident, according to a sheriff's news release issued Friday afternoon.
The deputies tried to stop the Mercedes, but the driver did not yield and drove away, heading onto eastbound State Route 91 in Carson. The California Highway Patrol took over the chase in Bellflower, the release stated.
The chase continued on the freeway through Anaheim Hills, where the vehicle ran over a spike strip that blew out the car's front tires, video from Sky5 showed.
After, the Mercedes hit the center divider several times as the driver tried to regain control of the car, according to the aerial footage.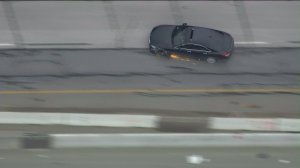 The driver finally came to a stop on the side of the 91, but refused to get out of the vehicle, prompting a SWAT team to respond.
The driver eventually exited the car after SWAT officers broke out the back window and used tear gas. He was immediately grabbed by a K-9, who latched on to the suspect before sheriff's deputies took him into custody.
Anaheim Police Department Sgt. Daron Wyatt later confirmed the man suffered a bite wound to his left arm.
The standoff lasted for about two hours, during which time the freeway was closed, the Los Angeles Times reported.
Traffic was backed up on the 91 for miles and snarled in the area for hours as a result of the incident. All lanes of the roadway were opened around 10:30 p.m.
The vehicle was thought to be involved in an attempted murder that occurred in the 9600 block of Miramonte Boulevard on May 2 in South Los Angeles, Holguin said Thursday.
Lopez's possible involvement in that crime was still under investigation.
After being "medically cleared," he was booked on suspicion of felony evasion of a police office, and was being held on $75,000 bail.
KTLA's Melissa Pamer contributed to this article.