This is an archived article and the information in the article may be outdated. Please look at the time stamp on the story to see when it was last updated.
A driver authorities say intentionally ran down and killed a Long Beach father of seven following an argument on Saturday night has been charged with murder, prosecutors said Wednesday.
Sokhorn Hor, 29, of Long Beach pleaded not guilty to the charge during an arraignment hearing Tuesday, the Los Angeles County District Attorney's Office said in a written statement.
He's accused of intentionally striking 40-year-old Victor S. Herrera of Long Beach with his car after the two men were involved in a dispute near Herrera's home, prosecutors and Long Beach Police Department investigators said.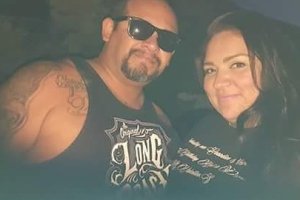 "The victim was walking in the area of Market Street and Orange Avenue when he got into an argument with the male driver of a red sedan," police said in a written statement. "The argument continued and while the victim was standing in the center median area of the roadway, the suspect ran him over and fled westbound on Market Street."
Officers tried to stop Hor a short time later on suspicion of intoxicated driving, police said. As they pulled him over, he crashed into a parked car.
Police soon determine he was the same driver involved in the earlier deadly collision, the police statement said. They arrested him  on suspicion of murder.
A nephew said the dispute began when Herrera confronted Hor about driving too fast through the neighborhood.
A a GoFundMe website established to help Herrera's family had garnered nearly $2,000 in donations Wednesday. Herrera leaves behind a wife, seven children and a granddaughter.
Hor is due to return to the Long Beach branch of Los Angeles County Superior Court for a hearing on Tuesday.
In the meantime, Hor's bail has been set at $2 million, records show.
If convicted as charged, he faces up to 25 years to life in state prison.