This is an archived article and the information in the article may be outdated. Please look at the time stamp on the story to see when it was last updated.
A driver was rescued Tuesday morning after plummeting more than 70 feet down the side of a cliff in the Angeles National Forest.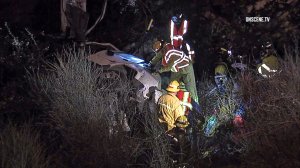 Emergency crews received a call just before 3 a.m. about a car that went over the side of Mt. Baldy Road somewhere between tunnel one and tunnel two, Los Angeles County Fire Department Supervisor Michael Pittman said.
Rescuers responded and found the vehicle about 74 feet down the side of a cliff, Pittman said.
Crews managed to get to the crash site and pull the victim, an unidentified man, up.
He was then airlifted to a hospital in unknown condition, Pittman said.
It was unclear how long the man had been down the cliff before rescuers arrived.
Temperatures in the area were in the upper 20s and low 30s overnight.
KTLA's Stephen Acosta contributed to this report.