This is an archived article and the information in the article may be outdated. Please look at the time stamp on the story to see when it was last updated.
A suspected hit-and-run driver has been arrested after being accused of killing two horses and critically injuring the married couple riding them in a Lake View Terrace crash, authorities said Saturday.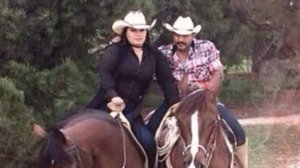 Rolando Garcia, 32, was driving along Foothill Boulevard near Wheatland Avenue when he struck the horseback riders about 9:40 p.m. on Friday, according to LAPD. The 1998 Chevrolet Astro Van he was driving then collided into a wall and came to a stop.
He has been arrested on suspicion of felony hit-and-run, police said.
Both horses were pronounced dead at the scene, authorities said, and the riders were left severely injured. They have since been listed in stable condition.
Footage of the crash site shows the minivan, with its front end ripped off, just outside the gate of a home.
A website established to collect funds for the injured couple set up by family friend Lesly Diaz described them as Polo and his wife, Alejandra.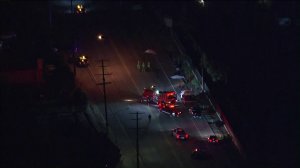 "Last night after going trailing, they were struck by a minivan as they reached their boarding facility," Diaz wrote.
The couple suffered numerous broken bones, including fractured vertebrae, the friend said.
"(The) horses were unfortunately killed instantly. Recovery can be lengthy for Polo and his wife Alejandra."
Kevin Davis, president of the local Foothill Trails District Neighborhood Council, said horseback riding at night is a safety issue local leaders are trying to fix.
"It's not unusual and it has been an ongoing concern for us because we've had other people killed or injured in the area," Davis said. "We're working to try to increase equestrian safety, but unfortunately based on what happened last night, our efforts still need to be increased."
Bail for Garcia was set at $50,000 pending his initial court appearance, Los Angeles County booking records show. He had no prior criminal convictions listed in Los Angeles County Superior Court records.
No other details have been released.
KTLA's Brian Day contributed to this report.