This is an archived article and the information in the article may be outdated. Please look at the time stamp on the story to see when it was last updated.
A man is in custody Monday morning after he struck several pedestrians with his vehicle following a dispute in downtown Los Angeles, according to Los Angeles Police Department officials.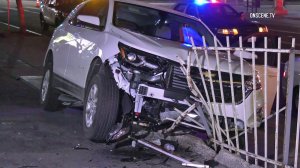 The incident was reported just before 2:30 a.m. near the intersection of East Cesar Chavez Avenue and North Vignes Street. The driver suspected in the crash was arrested on suspicion of assault with a deadly weapon, LAPD Officer Madison said.
He may have been parked and resting just before getting into a dispute with a group of pedestrians, Sgt. Kevin Custard said.
Custard said the pedestrians "made contact" with the driver and then a dispute began, though he didn't say what it was about. He said the driver then plowed into the five of them.
Just after the crash, investigators had said possibly five people were injured.
Earlier in the day, the crash had only been described as "potentially intentional," as it was still being investigated, LAPD Sgt. Pazzulla said.
Video from the scene showed a white vehicle involved in the incident had come to a stop after crashing into a fence.
KTLA's Alexandria Hernandez and Alberto Mendez contributed to this report.