This is an archived article and the information in the article may be outdated. Please look at the time stamp on the story to see when it was last updated.
A 47-year-old man who was driving a stolen SUV was taken into custody Wednesday night after leading police on a short pursuit that ended in the Glendale area.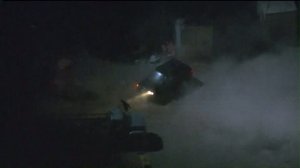 The pursuit began in the Lincoln Heights area about 8:45 p.m. when Los Angeles police officers initiated a routine traffic stop, and the driver sped away after the SUV's plates came back as being stolen.
The man evaded police for about 15 minutes, before crashing near the Scholl Canyon Landfill, in Glendale just north of Eagle Rock, aerial video from Sky5 showed.
The driver tried to escape on foot, but was taken into custody soon after.
Police were searching for a weapon they believe the man may have discarded.