This is an archived article and the information in the article may be outdated. Please look at the time stamp on the story to see when it was last updated.
Charges have been filed against a big rig driver in connection with a 2016 crash that killed 13 tour bus passengers and injured more than two dozen others on the 10 Freeway near Palm Springs, the Riverside County District Attorney's Office said Thursday.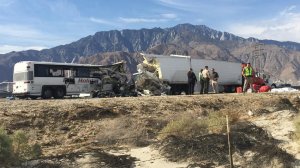 Bruce Guilford, 51, was arrested Thursday in Georgia by a U.S. Marshal fugitive task force, according to a news release from the DA's office.
He has been charged with 42 counts, including 13 counts of vehicular manslaughter with gross negligence, 12 counts of felony reckless driving causing injury, and 17 misdemeanor counts of reckless driving causing injury, the release stated.
The fatal crash occurred about 5:15 a.m. on Oct. 23, 2016, on the westbound 10 near North Indian Canyon Drive in Desert Hot Springs.
Guilford's big rig had stopped, along with the rest of traffic in the westbound lanes, while the California Highway Patrol conducted a "traffic break" because of construction being done by Caltrans and Southern California Edison, according to the release.
Once CHP officers reopened the interstate, the big rig remained stopped in the No. 3 lane, allegedly because Guilford had fallen asleep with the parking brakes set, prosecutors said.
Around the same time, the Los Angeles-bound motor coach carrying passengers from a casino in Thermal slammed into the back of the tractor trailer at 76 mph, according to CHP.
Thirteen bus passengers were killed, and 29 others were injured.
CHP investigators determined that Guilford, in the four days leading up to the deadly crash, had "violated 20 hours of service federal regulations, regularly violated maximum driving-time regulations, and attempted to hide the violations by falsifying his driver's daily log," the release stated.
It was also determined that he had only seven hours of sleep opportunity during the 24-hour period before the crash, but investigators don't believe he actually slept during them.
The DA's office did not say when Guilford would make his first court appearance.