This is an archived article and the information in the article may be outdated. Please look at the time stamp on the story to see when it was last updated.
The driver who allegedly struck and killed a cyclist in South Los Angeles in early April has been arrested and was identified by police during a news conference Thursday.
Mariah Kandise Banks was taken into custody on Wednesday, and a day later, Los Angeles Police Department officials and the victim's mother spoke out about her arrest.
"Like I said, Frederick was my only son and I'm just really waiting for everybody to be held accountable," Beverly Owens, his mother, told reporters.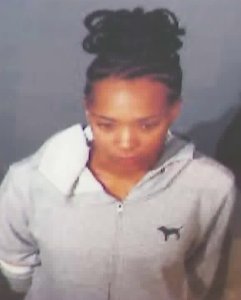 "There's no good ending to it," Owens said. "She's still, you know, human. She has a heart. She has a soul. And I someway, somehow still have compassion for her."
Banks is accused of hitting 22-year-old Frederick Frazier while driving a white Porsche Cayenne SUV authorities said was going at a high rate of speed on April 10. She allegedly fled the scene near the intersection of Normandie and Manchester avenues.
In the weeks after, a $50,000 reward was offered for information leading to an arrest and LAPD officials called on the public to find the driver. Surveillance footage was released as Frazier's mother pleaded for help finding the person responsible for her son's death.
"Why didn't they stop? Why didn't they stop for him?" she said at the time, crying as she stood over a memorial to her son.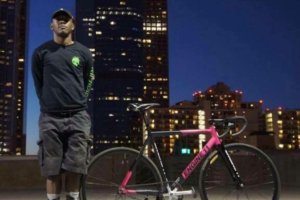 Authorities said the white Cayenne had been painted black and they found Banks in Moreno Valley, about 60 miles away from the crash scene. They say she confessed to the crime.
A day after Frazier was killed, friends and family had gathered for a vigil at the same intersection — where a friend of his was struck and injured by another hit-and-run driver. He is still recovering with a broken leg.
Video of the scene of that crash shows some cars actually trying to push through cyclists at the vigil, who were trying to raise awareness about cyclists' safety on the road.
About 100 cyclists were gathered there and LAPD Capt. Rafael Ramirez said they "basically took over the intersection" as they blocked cars. In video of the scene, one woman appears to get out of her car and start hitting a female cyclist. In other parts of the video, cyclists can be seen banging on an LAPD patrol vehicle driving by.
Later in the video, a car can be seen speeding through a red light at the intersection before plowing into a pedestrian, later identified as Frazier's friend Quatrell Stallings. His body is seen flying into the air as the car slams into him.
"I saw the car literally lift him off the ground," said Kimberly Van Der Horst, through tears.
Van Der Horst was walking across the street with her dogs at the time, just a few feet away from Stallings, as video of the scene shows.
"I'm thinking she's going to go around us, but she literally runs into us," she said.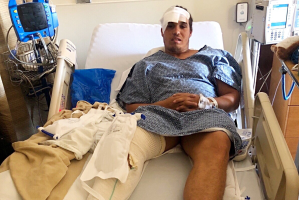 That driver was identified as allegedly being 19-year-old Alana Ealy and authorities found her in the South L.A. area.
"Since my baby passed, I have seen on the news like an epidemic of hit-and-runs," Owens said on Thursday.
"Something has to be done — there's too many," she said.
She has previously said her son took up cycling to "save his life" as he was diagnosed with Type 1 diabetes.
"He worked full time and he has a car but he wanted to get his miles in, so he rode his bike," she said at the time. "He didn't deserve to die because he rode his bike."
The L.A. County District Attorney's Office reviewed the case against Banks and has sent it back to authorities for more investigation.
KTLA's Juan Flores contributed to this story.