This is an archived article and the information in the article may be outdated. Please look at the time stamp on the story to see when it was last updated.
A "conflict" between a driver and a motorcyclist escalated into a collision that left a male rider dead and resulted in the arrest of the other individual on Thursday, according to the Gardena Police Department.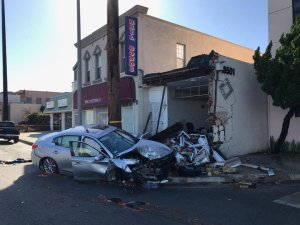 Officers were dispatched to the 16500 block of Western Avenue about 12:15 p.m. after receiving a report of a traffic collision between a car and motorcycle, police said in a news release.
The injured male rider was rushed to an area hospital where he was pronounced dead, the release stated. His name has not yet been released.
Information obtained during the preliminary investigation into the fatal collision revealed that the motorcyclist was headed southbound on Western Avenue when a man driving a 2017 Infiniti Q50 became embroiled in some type of conflict, according to police.
The incident escalated when the two motor vehicles collided, causing both to slam into a store in the 16500 block of Western, authorities said.
A photo released by the department showed major damage to the facade of the building, which was mostly destroyed except for a door. Multiple large cracks were also visible on the side.
The car sustained significant front-end damage, according to the photo; the motorcycle was not visible in the picture.
Oscar Villa, a 24-year-old Hawthorne resident, was identified by police as the Infiniti driver. He was arrested and booked on suspicion of murder, the release said.
Villa's bail has been set at $2 million, according to Los Angeles County inmate records.
Gardena police are investigating the crash, and anyone with information is asked to call Detective David Choi at 310-217-9635 and reference report No. T17-6923.