This is an archived article and the information in the article may be outdated. Please look at the time stamp on the story to see when it was last updated.
A man who was being sought for his involvement in a car crash that killed a 5-year-old boy while he was sleeping in a South Los Angeles apartment was arrested on Friday, according to the Los Angeles Police Department.
Jorge Ruiz-Garcia, 28, turned himself in on Dec. 9 when he was arrested on suspicion of a hit-and-run. Garcia was allegedly involved in a car crash a week before that left the little boy dead.
On Dec. 1 around 12:15 a.m. Vrenda Moreno, 23, crashed her car into a two-story apartment building in the 2800 block of Central Avenue, striking a family of six, police said.
The youngest child in the family, Luis Sanchez, suffered blunt force trauma and was transported to a local hospital where he was pronounced dead.
His parents, a 16-year-old boy, and two girls, ages 6 and 13-years-old also suffered injuries that were non-life threatening.
Surveillance video from just before the crash showed Ruiz-Garcia making a U-turn directly in the path of Moreno's Chevy Cruze, causing the suspect vehicle to swerve, cross the double yellow lines and slam into the apartment.
Ruiz-Garcia allegedly stopped briefly before fleeing the scene southbound on Central Avenue.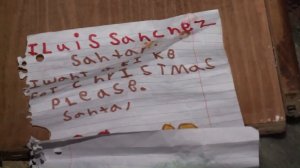 Inside the apartment, a letter the boy had written to Santa was found among the debris. The child was asking Santa for a bike for Christmas in the letter.
Police discovered a dislodged front grill at the scene and identified Ruiz-Garcia as the registered owner of the hit-and-run vehicle.
Moreno was found to be under the influence of alcohol and was arrested on suspicion of vehicular manslaughter, police said.
Ruiz-Garcia was released on bond with a bail set at $1 million.