This is an archived article and the information in the article may be outdated. Please look at the time stamp on the story to see when it was last updated.
A man was killed when another vehicle struck his car as it was stopped on the eastbound 10 Freeway in Pomona early Saturday morning, officials said.
Officers began receiving reports of a vehicle parked perpendicular to the flow of traffic just before the Dudley Street exit around 3:10 a.m., California Highway Patrol Sgt. Matthew Lentz told KTLA.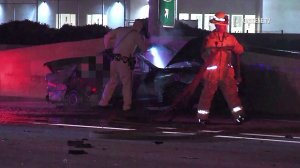 As CHP was responding, officers received additional calls regarding a car on fire. Firefighters were at the scene extinguishing the vehicle blaze as CHP arrived.
Investigation revealed the car, a 1994 Toyota Tercel, was parked on the freeway with its lights off when it was struck by a 2004 Mitsubishi Montero, according to Lentz.
The Toyota burst into flames upon being hit by the Mitsubishi. The Tercel's driver died at the scene, while the Montero was able to walk away, Lentz said.
Officials have not released the identity of either driver, but did say both were adult men.
Detectives are now looking into why the Toyota was stopped on the freeway.
The eastbound lanes of the 10 were closed for a time as authorities investigated, but have since reopened.
Lentz said the incident served as a reminder for motorists to be constantly vigilant, regardless of the time of day.
"You never know, and at this time in the morning, cars are generally traveling pretty fast," he said. "The fact that the vehicle was facing sideways, we did have reports from independent witnesses that it didn't have any lights on, which made that even harder for the driver of the Mitsubishi Montero to see."
CHP detectives are continuing to investigate the circumstances of the crash.