This is an archived article and the information in the article may be outdated. Please look at the time stamp on the story to see when it was last updated.
An out-of-control driver slammed into two parked cars and a home before eventually landing on top of a pickup truck during a violent crash in Riverside late Wednesday night.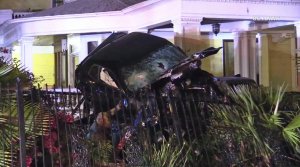 The crash occurred near the intersection of Comer and Mission Inn avenues, Riverside Fire Department Battalion Chief Tony Perna said.
A witness said the vehicle was traveling at a high rate of speed about 11:15 p.m. when it failed to navigate a turn and ended up driving through a yard.
The vehicle collided with the side of the home, then struck two parked cars before landing on top of another vehicle in a front yard, Perna said.
A man inside the home heard the crash and came outside.
"This car was laying on top of my new truck," said the man, who was getting ready to go to bed before the crash occurred.
The driver was extricated using the Jaws of Life before being taken to a local hospital for treatment. No word on the driver's condition was immediately available.
The extrication was made more difficult because the vehicle was elevated and needed to be stabilized before the patient could be removed, Perna said.
A resident who was inside the home that was struck said glass and part of a wall broken in the crash would have landed on his grandmother had she been in her bed at the time.
Officials determined the structure was OK following the crash.
The cause of the crash was under investigation.
Correction: An earlier version of this story gave the incorrect day for when the crash occurred. The post has been updated.