This is an archived article and the information in the article may be outdated. Please look at the time stamp on the story to see when it was last updated.
A man is in custody on suspicion of driving under the influence after several parked cars were struck by an SUV in Valinda early Monday morning.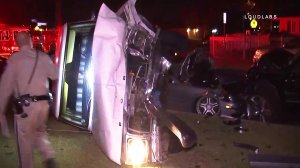 The crash was reported just after 1 a.m. in the 16700 Sam Gerry Drive, a spokesperson for the California Highway Patrol said.
At least four to five vehicles were damaged in the crash, which neighbors say involved a local resident.
Video from the scene showed a man in custody but his identity has not been released. A CHP sergeant later said the driver was arrested on suspicion of DUI and was taken to a hospital for injuries sustained in the crash.
A badly damaged black SUV that residents say belonged to the driver appeared to have crashed head-on into a Mercedes-Benz sedan. Neighbors told KTLA the Mercedes-Benz belonged to the SUV driver's wife.
The collision also left a white pickup truck overturned in someone's front lawn.
Lalo Moreno said his daughter-in-law woke him to say his truck had been in an "accident." Moreno went outside but didn't see his truck parked where he had left it.
"It ended up being rolled over in the neighbor's yard," Moreno said.
KTLA's Lucas DerMugrdechian and Steve Bien contributed to this report.