This is an archived article and the information in the article may be outdated. Please look at the time stamp on the story to see when it was last updated.
A driver suspected of being behind the wheel of a stolen vehicle crashed into a school bus with children on board during a pursuit in San Bernardino Friday afternoon, according to authorities.
The San Bernardino Police Department received a call at approximately 4:20 p.m. regarding the stolen vehicle, which officers later spotted at Ninth Street and Tippecanoe Avenue, Lt. Michael Madden told KTLA. The driver, who was only identified as a female, sped away as officers tried to stop her, the lieutenant added.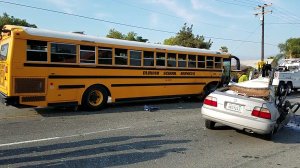 The pursuit reached speeds in excess of 80 mph, and at times, the driver traveled on the wrong side of the road, police stated.
The Police Department was about to cancel the pursuit for safety reasons, but the vehicle went airborne, struck a car and then crashed into a school bus at Ninth Street and Waterman Avenue, according to Madden. Video from the scene showed "Durham School Services" on the side of the bus.
Officials said the female driver was transported to a hospital in critical condition, and both the drivers of the car that was hit and the school bus were shaken up but OK.
Four children between the ages of 7 and 12 were on board the bus. There were some complaints of pain from the children, but nothing serious was reported, Madden said.
The California Highway Patrol was investigating the collision involving the bus. Meanwhile, the Police Department was investigating the pursuit and stolen vehicle report, according to the lieutenant.
KTLA's Matt Phillips contributed to this story.