This is an archived article and the information in the article may be outdated. Please look at the time stamp on the story to see when it was last updated.
One person died and three sustained injuries after a vehicle crashed into a trailer home in Gardena and ignited a fire, authorities said Sunday.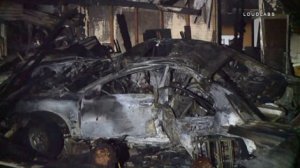 Gardena police received a call about a crash and an explosion at 1515 W. 135th St. at around 11:40 p.m. Saturday. The agency said responding officers found a car and a mobile home engulfed in flames.
Investigators said a 2003 Volvo traveling westbound on 135th Street at high speed hit a curb, struck a wooden power pole and crashed through a fence into a trailer park. The vehicle came to a stop inside a mobile home along with a portion of the pole, according to police.
Flames engulfed the trailer and the Volvo, where the driver was found dead after crews extinguished the fire, according to investigators. Neighbors had helped rescue the home's female resident and her adult son, who were sleeping inside, and a number of pets.
The mother and son suffered minor abrasions and burns, investigators said. At least one dog was transported to Animal Care and Control.
Neighbor Gus Olmedo, who appeared to have wounds on his arms, told KTLA that he broke the trailer's window and assisted the woman out.
Residents said about 20 members of their community came out to help before authorities arrived.
"It was very heroic of the neighbors to jump up and get the family out, including the pets," Sgt. Nick Pepper said.
Authorities have not released the identities of the driver and the two people who were inside the trailer.
Southern California Edison was working to restore power to the area and replace the downed pole and lines.
The incident remained under investigation, and anyone with information could call Gardena police at 310-217-6189 or 310-217-6183.