This is an archived article and the information in the article may be outdated. Please look at the time stamp on the story to see when it was last updated.
A tanker truck full of gasoline overturned and exploded near Merced Tuesday morning, killing the driver and prompting the temporary evacuation of 200 local residents, according to reports.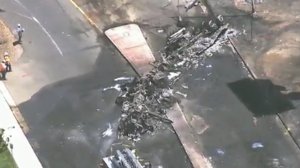 The tanker was carrying about 9,000 gallons of gasoline when it crashed around 10 a.m. in Atwater on Highway 99 near Applegate Road while on its way to delivering the fuel to an area gas station, according to a fire official.
Multiple explosions could be heard a short distance away at a nearby fast food restaurant, as panicked customers and restaurant employees scrambled outside, video from the scene showed.
The blasts caused a massive inferno that sent thick plumes of black smoke into the sky that could be seen 5 to 8 miles away, KTLA sister station KTXL in Sacramento reported.
Investigators believe the truck was going too fast when it exited the highway, the station reported, citing the California Highway Patrol. The tanker hit a concrete divider and overturned; the fuel then began to spill and ignited soon after.
The truck was completely destroyed in the fire, and the incinerated remains could be seen on the charred roadway in the aftermath, aerial video over the scene showed.
Authorities have not yet identified the driver.
About 200 residents in the area were temporarily evacuated as a result of the blaze, which also prompted the hourslong closure of all southbound lanes of the highway at Westside Boulevard, KTXL reported.
CNN contributed to this story.