This is an archived article and the information in the article may be outdated. Please look at the time stamp on the story to see when it was last updated.
One man died and two other people were transported to a hospital after a vehicle lost control and crashed into a parked car in Montebello Sunday morning, according to the Montebello Police Department.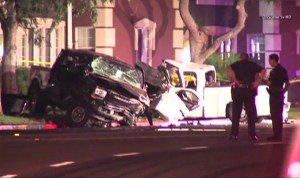 The collision occurred around 1:30 a.m. near North Garfield Avenue and West Madison Avenue (map), department Lt. Michael Bergman said.
A vehicle with three passengers was traveling southbound on North Garfield Avenue when it lost control and slammed into an unoccupied parked car, Bergman said.
The driver died at the scene.
The passengers were in unknown condition.
Both directions of North Garfield Avenue between West Madison Avenue and Whittier Boulevard were closed due to an investigation as of 6:30 a.m.