This is an archived article and the information in the article may be outdated. Please look at the time stamp on the story to see when it was last updated.
A truck driver managed to walk away unhurt after his big rig crashed and burst into flames on the Metro Gold Line tracks along the 210 Freeway in Pasadena on Saturday morning, officials said.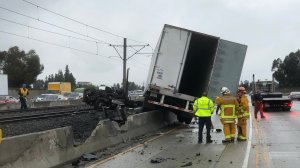 The crash took place about 7 a.m. on the westbound 210 Freeway near Madre Street, according to California Highway Patrol logs. Witnesses reported to the agency that the truck veered from the slow lane, crashed into the center divider — where the train tracks sit — and caught fire.
Fire officials dispatched an urban search and rescue team to the scene in case the driver needed to be freed from the wreckage, but that ultimately was not necessary, Pasadena Fire Department spokeswoman Lisa Derderian said. No injuries were reported.
The CHP issued a Sig Alert through 10:30 a.m. for the carpool and two left lanes of the westbound 210 Freeway, along with the carpool lane on the eastbound side. Only the westbound carpool and fast lanes remained closed by Saturday afternoon.
Metro Gold Line services was also blocked between the Allen and  Sierra Madre Villa stations, Metro officials said via Twitter.  Buses were requested to help get riders around the disruption. The agency also suggested travelers consider using Pasadena Transit buses or Metro Line 181 as alternatives.
By the afternoon, partial train service had been restored, according to Metro.
The incident took an unexpected turn when a kitten ran onto the freeway and climbed up in between the dual tires of the truck while it was still on fire, Derderian said. Firefighters managed to grab the kitten and provided it with treatment. An update on its condition was not available.
"Purrrfect" rescue while on scene of a major freeway incident this am a kitten ran across the freeway and under the tires while the truck was still burning. Firefighters rescued it and rendered aid. pic.twitter.com/0E0WBSsFX1

— Pasadena Fire Dept. (@PasadenaFD) October 13, 2018
GOLD LINE UPDATE: Trains every 25 minutes. Trains share APU/Citrus-bound track between Arcadia & Allen. Overturned truck now clear. Follow announcements. pic.twitter.com/6qg1P96XGq

— LA Metro Rider Alerts (@metrolaalerts) October 13, 2018