This is an archived article and the information in the article may be outdated. Please look at the time stamp on the story to see when it was last updated.
Police on Wednesday were searching for a hit-and-run driver who crashed a stolen vehicle into a Costa Mesa home, causing extensive damage to a portion of it, authorities said.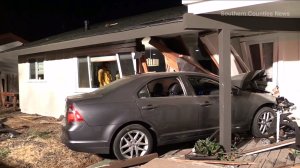 The driver lost control of the car and plowed through a fence before hitting the house in the 2700 block of Mendoza Drive (map) around 11:40 p.m. Tuesday night, according to Sgt. Patrick Wessel with the Costa Mesa Police Department.
The driver then fled the scene, Wessel said.
A husband and his seven-months pregnant wife were inside the residence at the time, but were not injured.
Police said the home, which was recently remodeled, has been red-tagged. However, the homeowner later clarified that the initial report was inaccurate.
The unidentified homeowner told KTLA that the house was actually OK, but it did not have any running water as a result of the crash.
It was believed the car involved in the incident had been stolen in Huntington Beach on Monday, Wessel said.
No description of the driver was available.
KTLA's Justin Burton contributed to this report.