This is an archived article and the information in the article may be outdated. Please look at the time stamp on the story to see when it was last updated.
Police were searching for the driver who fled the scene of a deadly single-vehicle collision Saturday in Westminster, authorities said.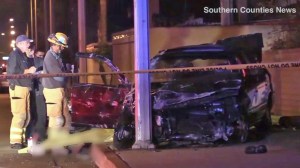 The incident occurred just before 3 a.m. on Magnolia Avenue south of Westminster Boulevard, according to the Westminster Police Department.
The driver of a dark-colored car lost control, slammed into the retaining wall of a mobile home park, then struck a light pole, witnesses said.
A passenger was ejected from the vehicle and pronounced dead at the scene, police said.
The driver ran away, leaving a trail of blood on the sidewalk, according to witnesses.
The Westminster Police Department urged anyone with information to give them a call at 714- 898-3315.