This is an archived article and the information in the article may be outdated. Please look at the time stamp on the story to see when it was last updated.
A 21-year-old Newport Beach man was sentenced to one year in jail Monday for killing a 55-year-old cyclist and fleeing the scene of the crash in 2014.
Dylan Thomas Rand-Luby, pleaded guilty to one felony count of hit-and-run with injury and one misdemeanor county of vehicular manslaughter without gross negligence, the Orange County District Attorney's Office announced.
Rand-Luby killed cyclist John Colvin when he swerved his 2005 Toyota Prius into a bike lane along North Coast Highway in Laguna Beach on June 17, 2014, striking Colvin.
With a shattered windshield, Rand-Luby continued driving, leaving Colvin at the edge of the roadway. Rand-Luby was followed by two witnesses until he stopped about a mile away in an elementary school parking lot, where he was questioned by responding police.
Colvin died at the scene from blunt force trauma, the DA's office said. His family members read statements at court in Santa Ana Monday.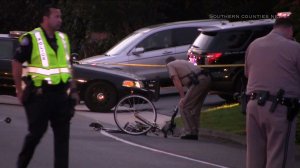 "The loss is so deep and massive it truly is impossible to explain. John represented everything that is good in life; to his very core he was kind, loving, gentle, strong, forgiving and empathetic," his wife said.
His parents said they've been told time heals, but "we have not felt any healing in the last 15 months."
Rand-Luby had faced up to four years in state prison, the DA's office said in February 2015, when he was charged.
He was sentenced Monday to one year in jail and three years of formal probation.
Rand-Luby's last name was previously provided by the DA's office as Randluby. He was 19 at the time of the crash.