This is an archived article and the information in the article may be outdated. Please look at the time stamp on the story to see when it was last updated.
Police have identified the driver suspected of crashing a truck into an apartment complex in Oxnard Monday, critically injuring two children.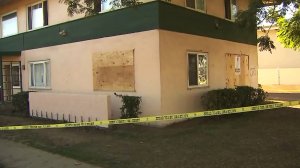 Sonny Ramos, 37, was traveling eastbound on Elm Street about 4:30 p.m. when he drove through a stop sign at Gisler Avenue and then crashed into the California Garden Apartments, the Oxnard Police Department stated in a news release.
Video from the scene showed the 2001 Chevy pickup truck had crashed through a wall and came to a stop inside the apartment building.
"I noticed he wasn't stopping and I said he's not going to stop so me and a neighbor who lives in one of these houses just started running and trying to help," witness Junior Nunez said following the crash.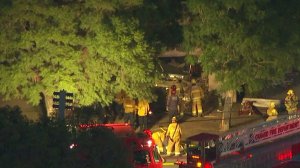 A 2-year-old girl and an 8-year-old boy were pinned under the truck and were rushed to the hospital with critical injuries, officials reported.
Ramos, who was trapped inside the truck and needed to be rescued, was also transported from the scene in critical condition, but was later upgraded to stable, officials said.
A 16-year-old girl who was in the apartment at the time of the crash had minor injuries.
The cause of the crash, including whether drugs or alcohol were involved, was under investigation.
Anyone with information was asked to contact the Police Department at 805-385-7750.