This is an archived article and the information in the article may be outdated. Please look at the time stamp on the story to see when it was last updated.
A 21-year-old Fontana woman involved in a crash that left six people dead has been charged with numerous counts of murder, the Los Angeles County District Attorney's Office announced Thursday.
Olivia Carolee Culbreath remained hospitalized after the crash early Sunday on the 60 Freeway in Diamond Bar.
It was not known when she would be able to be arraigned in court, the DA's office stated.
She was charged with six counts of murder after allegedly driving a 2013 Chevrolet Camaro the wrong way on the interstate, colliding with a 1998 Ford Explorer.
Witnesses told CHP investigators that the Camaro was traveling more than 100 mph. Evidence of alcohol consumption was found at the scene, CHP officials said.
All occupants of the Explorer — a family from Huntington Park — were killed.
Culbreath's 24-year-old sister and a friend, who were riding in the Camaro, were also killed. A driver whose Ford Freestyle was hit by the Explorer after the initial collision said he was "lucky" to be alive.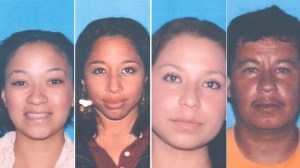 After the collision, Joel Cortez, 57, said he sat dazed in his car.
"I heard people talking … 'Oh my God, there are bodies all over the place,'" he recalled.
The collision, which has generated national attention, left a gruesome scene of twisted metal and debris scattered across the roadway.
Culbreath was being held in a hospital jail ward at Los Angeles County-USC Medical Center on $6 million bail.
She was being treated for a broken femur and a ruptured bladder, the California Highway Patrol stated after the crash.
She had initially been arrested on suspicion of felony driving under the influence of alcohol causing great bodily injury or death, and of felony manslaughter, according to CHP.
No DUI-related charges had been filed, according to the DA's office.
She faces a maximum sentence of life in prison if convicted of the six murder charges, the DA's office stated.
The victims of the crash were identified as: Gregorio Mejia-Martinez, 47; his wife, Leticia Ibarra, 42; their daughter, Jessica Jasmine Mejia, 20; Jessica's grandmother, Ester Delgado, whose age was not known; Maya Louise Culbreath, 24, of Rialto; and Kristin Melissa Young, 21, of Chino.
A vigil organized by a local chapter of Mothers Against Drunk Driving was held Wednesday night in Diamond Bar.
Correction: An earlier version of this article used an image that had a caption stating its two photos showed Olivia Culbreath. It was not certain if Culbreath was shown in both photos or either photo in the image, which has been removed.