This is an archived article and the information in the article may be outdated. Please look at the time stamp on the story to see when it was last updated.
A 25-year-old former school bus driver who allegedly failed to disclose a medical condition that caused him to have seizures and black out has been charged with multiple criminal counts over an Anaheim bus crash that occurred when he passed out last year.
The 11 students that Gerald Douglas Rupple was transporting from El Rancho Charter Middle School in Anaheim Hills were all injured in the April 2014 crash, according to the Orange County District Attorney's Office.
Rupple was arrested Thursday in Arizona and was being returned to Orange County by the California Highway Patrol, which investigated the case, the DA's office announced Friday.
He was charged with one felony count each of child abuse and endangerment, perjury by declaration, and a sentencing enhancement for causing great bodily injury.
Rupple was driving an Orange Unified School District bus about 50 mph when he passed out April 24, 2014, the DA's office stated.
The bus careened down a hill without braking, veered off Nohl Ranch Canyon Road and crashed into several trees. Everyone on board was hurt, and Rupple was among those critically injured in the crash, police said at the time.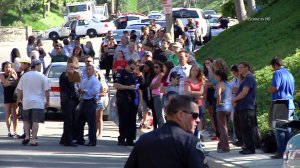 Four students had major injuries including fractured bones, intracranial hemorrhaging, a shattered spine, and amputation of a toe, the DA's office said.
Rupple was accused of having a medical condition that causes dizziness, seizures, and blackouts, and of not disclosing his medical history to the school district or a doctor who conducted his commercial driver fitness examination. He knew the disclosure could "negatively affect his employment," the DA's office said.
He allegedly falsely declared under penalty of perjury that his medical history was accurate.
He had worked for the district since 2010, district officials said at the time of the crash.
If convicted, Rupple faces up to 19 years in state prison. He was being held on $100,000 bail and was expected to be arraigned at a later date.