This is an archived article and the information in the article may be outdated. Please look at the time stamp on the story to see when it was last updated.
An 18-year-old man was in custody after a California Highway Patrol officer and two other people were injured in a crash along the Conejo Grade on the 101 Freeway on Thursday, and the teen was accused of intentionally striking at least two other vehicles after taking his parents' car.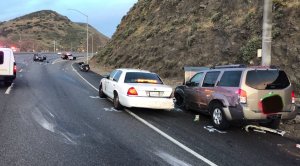 The string of events began around 6:50 p.m. after Camarillo resident Carlos Lozano had quarreled with his parents, Ventura County Sheriff's Sgt. Eric Buschow said.
The fight ended with Lozano taking the keys to his mom's Nissan Pathfinder. As he was driving off, he hit two cars parked at the apartment complex where they live, according to Buschow.
Lozano then returned to the parking area shortly after driving away and allegedly attempted to run over both his parents. His father had to grab his mother and dive out of the way to avoid being hit, the sergeant said.
The 18-year-old is then accused of proceeding to crash into more vehicles in the complex's parking area and ramming a carport to the point that it had to be red tagged.
He then left the area and got onto the 101 Freeway, where he intentionally struck one vehicle near Carmen Drive and another near Pleasant Valley Road, Buschow said.
Next, Lozano struck a CHP officer who had stopped to assist a disabled motorist on the freeway's shoulder, south of Camarillo Springs Road near the Conejo Grade scales, according to Buschow.
Aerial footage of the scene showed a white CHP vehicle pushed up against an SUV with its front end smashed. A second, smashed up SUV could be seen further along the freeway with a large amount of debris scattered nearby.
The officer suffered minor to moderate injuries but was expected to be released after being treated at a nearby emergency room, officials said.
Two other people suffered minor injuries, according to Ventura County Fire Department officials. They were also taken to a hospital for treatment.
It was unclear whether the 18-year-old was among those transported, but sheriff's officials said he was in custody following the officer-involved crash. Buschow said he could face at least six counts of assault with a deadly weapon using a vehicle.
At one point, all but one of the freeway's southbound lanes were closed as authorities investigated — backing up traffic for miles — but the roadway fully reopened at 11 p.m.
Authorities have not released the name of the CHP officer involved but said he is assigned to the Conejo Commercial Enforcement Facility along the grade, primarily conducting commercial big rig inspections.
The CHP officer was assisting a disabled motorist on the right shoulder, US 101, s/b, south of Camarillo Springs Road, when he was struck-and there was a multi-vehicle collision. @VENTURASHERIFF has the driver in custody. Right lanes closed until 9:00 PM for investigation pic.twitter.com/1J64fXUdO9

— CHP Moorpark (@CHPMoorpark) May 11, 2018