This is an archived article and the information in the article may be outdated. Please look at the time stamp on the story to see when it was last updated.
A driver was injured when a vehicle crashed into a restaurant in Willowbrook on Wednesday. The vehicle caused damage to the building, but no employees or customers were hurt.
Emergency personnel responded to the crash into the Pronto's Burgers at S. Main Street and E. El Segundo Boulevard around 5:30 p.m.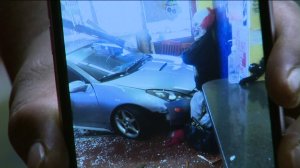 "I guess they thought it was an earthquake or something, but it was like a loud 'boom,' and that's when we all panicked," employee Kimberly Corona said. "He just crashed, and he was trying to get out of the car, and I guess we all got scared so we went out of the building. And then it was going to hit me because I was taking an order, but thankfully it didn't."
The driver of that vehicle was taken to a hospital. Their condition is unknown at this time.
Corona said the car was involved with another vehicle that may have run a red light at the nearby intersection, which resulted in the crash. That vehicle did not remain at the scene.
Police said they are investigating the incident as a hit-and-run.