This is an archived article and the information in the article may be outdated. Please look at the time stamp on the story to see when it was last updated.
Four Corona High School students were injured in a violent rollover crash that killed the 20-year-old driver, who was identified Tuesday.
The driver was dead when first responders arrived at the scene of the crash, in the 1600 block of Via Pacifica (map), just after 6 p.m. Monday, according to the Corona Police Department.
She was identified by the Riverside County coroner's office as Crystal Urena, 20, of Santa Ana. The Police Department had earlier provided a different spelling of her name.
All four passengers were hospitalized, and one was in critical condition.
The Corona-Norco Unified School District confirmed the passengers were Corona High students but did not release their names.
"We extend our deepest sympathy to the families of all of those involved in the accident," read a Corona-Norco Unified statement released Tuesday morning. "We ask that the community joins us in keeping the students and their families in their thoughts.​"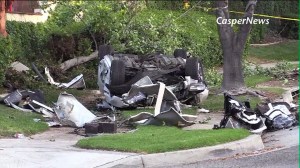 Counselors were at the school on Tuesday, the district stated.
Speed appeared to be a factor in the crash, according to a new release from the Police Department, which was continuing its investigation.
Those who live in the residential neighborhood where the single-car collision occurred said the curving roadway is dangerous at elevated speeds.
The crash involved a 2011 Ford Mustang that lost control and left the roadway, according to police. It flipped over and hit a tree and an electrical box.
Anyone with information was asked to call police Investigator Clark Eveland at 951-736-2355.
KTLA's Eric Spillman and Carolyn Costello contributed to this article.