This is an archived article and the information in the article may be outdated. Please look at the time stamp on the story to see when it was last updated.
A driver allegedly involved in a hit-and-run crash that killed a man in Pasadena early Sunday morning has been identified and arrested, according to authorities.
The driver has been identified by local police as Robert Michael Ybarra, 34. They found him at a residence in Alhambra later in the day, Lt. Max Dahlstein said.
He was taken for medical treatment as he had suffered some injuries in the crash, Dahlstein said. He will be in the hospital for a few days but will be jailed upon his release from care.
Earlier in the morning, at about 2 a.m., the crash occurred when a white SUV traveling southbound on Sierra Madre Boulevard and a black Honda Accord traveling eastbound on Colorado Boulevard collided, according to Pasadena police Lt. Bill Grisafe.
Firefighters attempted to extricate the male driver from the Honda, but they realized he had died, police stated. Authorities said he was in his mid-to-late 20s. The Los Angeles Coroner's office identified him as Abeme Minuta, Pasadena Now reported.
Witnesses checked on the driver of the SUV, and he may have tried to distract them in order to get away, according to police.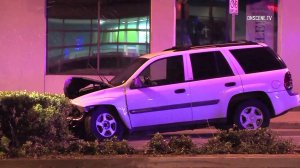 "Witnesses did contact him to make sure that he was OK," Grisafe said. "At that time, he directed the attention of the witnesses to the driver of the black car, asked them to check on him, and at that point, the driver of the white SUV fled on foot."
The SUV driver was initially described by authorities as a Hispanic man, approximately 25 to 30 years old. And he was later identified as Ybarra.
The cause of the crash remains under investigation, but speed may have been a factor, Grisafe said. Officers plan to review video from the surveillance cameras of nearby businesses.
Anyone with information about this case was asked to contact the Pasadena Police Department at 626-744-4241.