This is an archived article and the information in the article may be outdated. Please look at the time stamp on the story to see when it was last updated.
The driver of a mortuary van with a body inside pursued a hit-and-run pickup driver about eight miles into downtown San Diego, where the pickup crashed into other vehicles and knocked down a light pole, authorities said Friday.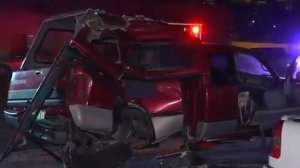 The driver of the van called the California Highway Patrol shortly after 11 p.m. Thursday, telling a dispatcher that his vehicle had been struck by a hit-and-run driver in Lemon Grove and that he was pursuing the suspect into the eastern end of San Diego.
He reported that the driver of the pickup had traveled into downtown, where he ran a red light at 14th and G streets and struck two other vehicles, the CHP said.
San Diego News Video showed the crumpled right side of the red pickup with a camper shell. The front of a blue sedan was demolished, and a large gray pickup that ended up across a sidewalk also was damaged.
Read the full story on LATimes.com.