This is an archived article and the information in the article may be outdated. Please look at the time stamp on the story to see when it was last updated.
The driver of a pickup truck that got stuck on an Oxnard rail line, resulting in a fiery crash that derailed a Metrolink train and left dozens injured, was trying to find help and not fleeing the scene, his attorney said Wednesday.
Jose Alejandro Sanchez-Ramirez, a 54-year-old from Yuma, Arizona, was driving toward an agricultural field where he was due to work the next day when, before dawn on Tuesday, he turned onto railroad tracks instead of a roadway at Rice Avenue and Fifth Street.
"This was an accident. That's all this was, was an accident," Ventura attorney Ron Bamieh said at a Wednesday news conference. "Unfortunately, Mr. Sanchez misperceived the … railroad tracks to be the road. He turned right for a few feet and then he dropped onto the track."
The truck got stuck in the tracks, and Sanchez-Ramirez tried to speed up and jerk the vehicle off the tracks, unsuccessfully, Bamieh said. Seeing the oncoming commuter train, Sanchez-Ramirez flashed his high beams to no avail, Bamieh said.
"He then was forced to flee to save his own life," Bamieh said.
Sanchez-Ramirez had left his Ford F-450 utility truck, which was towing equipment he used to service harvest machinery, when it was struck by a five-car commuter rail train headed toward Los Angeles.
The vehicle exploded in flames, and police and firefighters soon responded to help the wounded from the train. Twenty-eight people were hospitalized.
Police said Sanchez-Ramirez was later found more than 1 1/2 miles from the crash site — a distance that Bamieh disputed.
The driver, his attorney said, was in shock and went to try to find help in a desolate agricultural area.
"He basically freaked out at the situation and tried to help people. Did he do everything like James Bond would have done under fire? No. He's an average guy who's a family man who has never once in his life encountered such tragedy," Bamieh said. "He did the best he could."
Sanchez-Ramirez, a Spanish-only speaker, called his son from his flip phone. He spotted police officer, approached them and gave them the phone so his son could explain what had happened, according to Bamieh.
"To say he was trying to run away or was trying to flee the scene is totally incorrect. He was the one who went to law enforcement," the attorney said.
Sanchez-Ramirez was taken to a hospital by police for a blood-pressure related attack and was released about three hours later. He was then arrested on suspicion of hit-and-run causing injuries.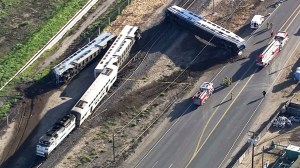 Police said there was no indication that Sanchez-Ramirez was under the influence, according to the attorney.
He was being held on $150,000 bail and was expected to appear in court — if charged — Thursday. Bamieh said he planned to seek a motion to have his client released on his own recognizance.
When Bamieh went to meet with his client in jail, Sanchez-Ramirez's only questions were about the people on the train, the attorney said.
"He never once asked about what was going to happen to him," Bamieh said.
Bamieh repeatedly described Sanchez-Ramirez as a family man. A legal U.S. resident who "pays taxes," Sanchez-Ramirez has lived in Yuma since 1996 and has been employed by the same harvest company for 12 years, according to Bamieh.
He worked for Harvest Management LLC of Somerton, Arizona, a company that hauls farm equipment and produce, according to National Transportation Safety Board board member Robert Sumwalt. The 40-driver company has a favorable scores with federal safety regulators, Sumwalt said.
Sanchez-Ramirez was unfamiliar with the Oxnard area and was navigating with a paper, printed-out Google map so that he could scope out the site where he was set to work the next day, Bamieh said.
His daughter had died of cancer in July, and Sanchez-Ramirez  and his wife were helping to raise their grandchildren, Bamieh said.
Sanchez-Ramirez had a drunken driving conviction in 1998, but has had an "insignificant" driving record since then, according to the attorney.
Sanchez-Ramirez pleaded guilty to several violations in the 1998 case, including driving with a blood alcohol content above .08 percent, failure to obey a police officer, having liquor with a minor on the premises, and having no insurance, the Los Angeles Times reported.
He was convicted in 2004 of a local driving infraction in Yuma, and was cited in 2007 for failure to obey a traffic-control device, according to the Times.
The rail crossing where the collision occurred has recently been the subject of a request from the city for federal government funds to improve its safety, Bamieh noted. Oxnard's mayor on Tuesday had also discussed the concerns about the crossing — which was the site of a double-fatal crash in July.
The National Transportation Safety Board, which is conducting an investigation into the crash, was looking into whether the intersection was adequately lighted, signaled and marked, an NTSB board member said Wednesday.
More video: