This is an archived article and the information in the article may be outdated. Please look at the time stamp on the story to see when it was last updated.
The driver of a vehicle involved in a fiery crash in South Los Angeles that killed a man and two children under 10 has been arrested on suspicion of DUI and vehicular manslaughter, LAPD officials said Sunday.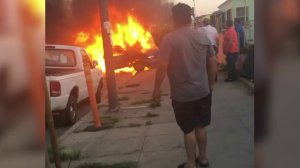 The driver, identified as Jose Garcia, was the solo occupant of the other vehicle in the Vermont Knolls crash.
The crash occurred just before 8 p.m. Saturday near 744 West 76th Street, the Los Angeles Fire Department said in an alert.
Garcia, 30, was driving a Nissan Xterra and apparently speeding north on Hoover Street when he ran a red light and crashed into a Dodge Caravan with five people inside heading west on 76th Street, Sgt. Minh Nguyen told KTLA.
Both vehicles were engulfed in flames by the time firefighters arrived and screams could be heard from inside at least one of the vehicles.
A 34-year-old man, a 6-year-old girl and an infant, died at the scene. They have not been identified.
A 33-year-old woman and a 9-year-old boy were taken to a hospital in critical condition, Los Angeles Police Department officials confirmed Sunday.
Alvaro Samano, who identified himself as the victims' relative, told KTLA that the five people in the van were a family.
Speaking in Spanish, he said, "What can you say? The damage is done."
Jose Castellon told KTLA that he grabbed a fire extinguisher from his restaurant across the street from the crash and was able to pull the woman and the 9-year-old boy out of the van. He tried to do more, but the van "blew up inside."
"The flames erupted and I couldn't do anymore," Castellon said.  "I didn't think about my burns, I just thought about how the kid was screaming to me 'Ow, ow, it hurts.'"
A witness who did not want to give her name said she saw people trying to get the victims out of the burning vehicle.
"I saw a kid being walked to the side of the ambulance and his body was charred, his clothes had literally melted onto him," the witness said.