This is an archived article and the information in the article may be outdated. Please look at the time stamp on the story to see when it was last updated.
The driver of a stolen vehicle who led officers on a dangerous pursuit from Boyle Heights to Montebello, during which he carjacked one vehicle and attempted to steal two others before being shot by police, was identified Tuesday and reported to be in stable condition, according to LAPD officials.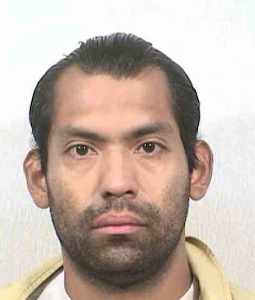 Aaron Lorta, 29, was booked on suspicion of carjacking, Los Angeles Police Department Officer Liliana Preciado said.
Because Lorta was on parole at the time of the Monday evening pursuit, he was denied bail, Preciado said.
Lorta has a lengthy criminal record in Los Angeles County, court records show. He was convicted in May 2013 of attempted robbery and send to state prison that July.
After nearly a year at Wasco State Prison northwest of Bakersfield, Lorta was paroled late last June, state corrections records indicated.
Since 2007, Lorta has been convicted of crimes ranging from carrying a concealed dagger to vandalism, from battery against a spouse or cohabitant to assault with a deadly weapon.
The pursuit began around 5:15 p.m. near First and Soto streets in Boyle Heights, where officers attempted to stop a stolen vehicle, LAPD Officer Rosario Herrera said.
Sky5 aerial footage showed the man driving erratically, weaving in and out of traffic, and colliding with multiple vehicles before his silver car became disabled in South Gate.
The driver then abandoned the stolen car, ran up to a second vehicle with a gun and carjacked it from a 22-year-old mother of two.
Later, the mother tearfully told reporters she was alone but typically had her two little girls with her.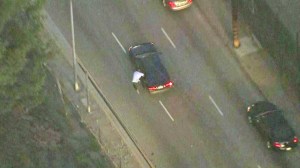 "He was pointing the gun at me, I just got out of the car and ran," Elizabeth Yarahuan said. "I was just scared he was going to hurt me."
The man continued to drive dangerously, before becoming stuck between two vehicles while attempting to exit the 60 Freeway in Montebello, aerial footage showed.
He then attempted to carjack two more vehicles before apparently tripping and falling to the pavement near the intersection of Via Campo and Garfield Avenue (map) near a 60 Freeway off-ramp.
About a dozen police officers then swarmed the man, and an unknown number shot at him.
The crime spree was a threat to the public, police said.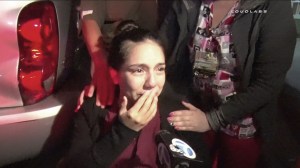 "Any time you have complete disregard for public safety and the safety of other individuals … it's very dangerous," Sgt. Frank Preciado said.
The man was transported by ambulance to a hospital. The number of shots fired was not disclosed, but a witness said he heard more than a dozen.
A gun was recovered at the scene but its type was not released, Preciado said.
As of 5 a.m. Tuesday, the eastbound 60 Freeway near Findlay Avenue and North Garfield Avenue remained closed.
Correction: An earlier version of this article misstated the amount of time Lorta spent in state prison. The story has been updated.