This is an archived article and the information in the article may be outdated. Please look at the time stamp on the story to see when it was last updated.
A driver who struck a bicyclist near USC and dragged him 50 feet, killing him, entered a no contest plea and now faces a sentence of 12 years in state prison.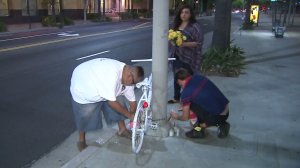 Andrew Williams, 33, pleaded no contest Thursday to felony voluntary manslaughter and felony hit-and-run driving resulting in death, the Los Angeles County District Attorney's Office announced Friday.
Williams was driving his SUV near Exposition Park when he came across 35-year-old Ruben Wharton Vanegas on the morning of Oct. 15, 2015.
"The two men got into an argument over the cyclist being on the road and after exchanging words, Vanegas hit the defendant's side view mirror and rode in front of the vehicle," a DA's news release said, citing court testimony.
Williams then ran over Vanegas and dragged him down the street, fleeing in his SUV.
On the day of the crash, a witness told KTLA she heard the victim and the driver yelling at each other.
"There was an argument going back and forth. The man that was driving, he pushed him off the bike. And he shouted out 'Shut up before I run you over,'" the witness said. "And he ran him over."
Vanegas died at the scene. Cyclists gathered on the night of the crash, placing a white "ghost bike" at the scene.
Williams' sentencing hearing is set for June 20 in downtown L.A. criminal court.