This is an archived article and the information in the article may be outdated. Please look at the time stamp on the story to see when it was last updated.
A South Los Angeles Church sustained heavy damage Friday morning after a driver plowed right through the front door of the building.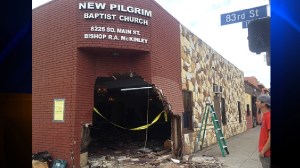 A gray BMW was traveling northbound in the 8300 block of Main Street (map) when it ran off the road and smashed through the church at about 1:45 a.m., according to Lt. Robert Rivers of the Los Angeles Police Department.
The wall where the front door to the New Pilgrim Baptist Church once stood was left with a gaping hole in it, video from the scene showed.
The inside of the church was covered with debris and broken furniture that had been tossed about during the crash.
Investigators believe speed was a factor in the crash, but there was no initial indication of drugs or alcohol being involved, Rivers said.
Authorities did not indicate what happened to the driver, but no one was in custody, according to Rivers.