This is an archived article and the information in the article may be outdated. Please look at the time stamp on the story to see when it was last updated.
A motorist who was rescued from a burning car after losing control and veering across all lanes on the 405 Freeway on Christmas Day has been arrested on suspicion of drunken driving, authorities said Thursday.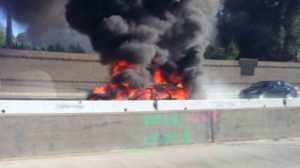 The unidentified 72-year-old driver was pulled from his black Mercedes-Benz as it was engulfed in flames near the Sepulveda Pass on Wednesday afternoon.
Along with other motorists, an off-duty veteran LAPD bomb squad officer and a Los Angeles Fire Department battalion chief who were passing came to the driver's aid, saving his life, according to witnesses.
On Thursday, California Highway Patrol Officer Nathan Smith confirmed that the driver, who had been hospitalized with moderate injuries, was arrested on suspicion of DUI.
"For unknown reasons the driver lost control, collided with the right shoulder sound wall, veered across all traffic lanes, collided into the center divider concrete jersey wall and burst into flames," stated a CHP report issued Thursday afternoon.
Officer Don Thompson, a 26-year veteran of the Los Angeles Police Department, jumped over the center divider after seeing the driver's car crash and go up in flames.
"The word 'hero' is a way-too-often used term, but this officer is just that. When the man was pulled from the car, the car was fully engulfed," Peter Liebgold said in an email to KTLA, saying he witnessed the incident.  "To see a man emerge from the car was a miracle. He owes them his life."
A passing fire battalion chief was able to call 911 and assist Thompson and others in helping the motorist.
Thompson was treated at an urgent care center for minor burns after the incident, on the northbound 405 Freeway just south of Sepulveda Boulevard in Sherman Oaks.
"It makes me feel good to know that I saved a life," Thomson said Wednesday night. "He would have died…It was just a matter of seconds."
The driver was hospitalized at UCLA Medical Center and treated for neck and back pain, according to CHP.
After treatment, the driver was taken to Van Nuys Jail and on booked on suspicion of DUI.
The continuing investigation was being handed by the West Valley CHP Area Officer; the cause of the collision was pending.