This is an archived article and the information in the article may be outdated. Please look at the time stamp on the story to see when it was last updated.
Friends and family gathered Wednesday in South Los Angeles at the spot where 19-year-old Jerry Arredondo Jr. was struck and killed to mourn the teen as police searched for the person driving the rental car that hit him.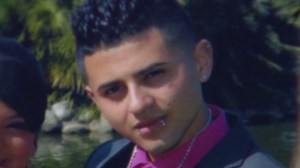 The crash happened around 7:20 p.m. on Tuesday near the intersection of 105th Street and Wadsworth Avenue, according to Sgt. Hendley Hawkins of the Los Angeles Police Department.
Arredondo was getting out of a car when he was hit by the vehicle, which was traveling around 80 to 100 miles per hour, according to Hawkins.
The vehicle struck Arredondo with such force that it threw him in the air and into a tree, Hawkins said.
Seven parked cars were also hit by the driver, according to Hawkins.
A woman who was sitting in a parked car that was struck by the vehicle sustained minor injuries. She was not taken to a hospital.
The driver, who left the rental car behind, fled the scene in a silver BMW 5-Series, according to Hawkins.
KTLA's Wendy Burch and Kennedy Ryan contributed to this report.