This is an archived article and the information in the article may be outdated. Please look at the time stamp on the story to see when it was last updated.
Authorities are continuing their search Thursday for a hit-and-run driver who struck and killed a woman in the Lincoln Heights neighborhood of Los Angeles.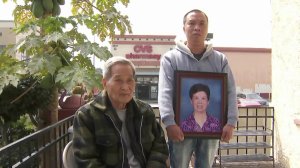 The crash occurred about 9:50 p.m. Sunday near the intersection of North Broadway and Workman Street, Los Angeles Police Department Detective Felix Padilla said.
A 67-year-old woman was going through recyclables when she was struck and critically wounded by a driver who fled the scene, Padilla said.
The woman was taken to an area hospital, where she later died.
Ashley Lee, who described herself as a family friend and neighbor, identified the victim as Bi Xu Chen, however officials have not yet released the woman's identity.
"She was an extremely hardworking woman, wife, mother and grandmother," Lee wrote in a Facebook post asking for help in finding whoever is responsible for the deadly crash.
Lee described the driver's vehicle as a red or black SUV and asked anyone with information to come forward. "She deserves justice," Lee wrote.
"It was heartbreaking. We've known her for so m any years and she took care of my grandma so well. It just wasn't fair," Lee told KTLA on Thursday.
Authorities later found the vehicle that was involved in the crash, but no arrests have been made, Padilla said.
Investigators are reviewing surveillance videos and have some "pretty good leads," Padilla said.
Anyone with information about the crash can call Crime Stoppers at 800-222-TIPS (8477).
A GoFundMe campaign has been set up to help raise money for Chen's funeral expenses.
KTLA's Irving Last and Nidia Becerra contributed to this report.